Southern African Regional Universities Association (SARUA)
1 Trematon Place,
2193 Johannesburg, South Africa
Image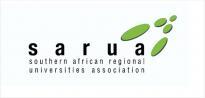 SARUA is a vibrant higher education association that promotes regional impact through networking, collaboration and partnership. The Association is committed to building the capacity of a responsive and capable SADC higher education community through key projects.
SARUA's vision is to be a dynamic catalyst and responsive hub for higher education revitalisation and innovation in the SADC.
SARUA facilitates networking between member universities, as well as higher education universities and organisations from outside the SADC.