Image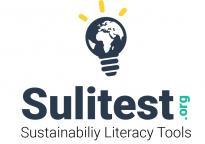 In order to address the social, economical and environmental challenges the world is currently facing, and to reach the sustainable development goals, all current and future decision makers urgently need to improve their "Sustainable Literacy".
Hence, there is a vital need to develop tools to help organizations raise awareness, assess and improve global knowledge on Sustainable Development and Corporate Social Responsibility among their students, employees, stakeholders, and decision makers. The vision of the organization is to develop Sustainability Literacy worldwide and empower engaged and committed global citizen to make informed and responsible decisions, and collectively build a sustainable future.
Firstly experimented in 2013, Sulitest now offers a variety of pedagogical tools aligned with the SDGs. The best known tools are the "Test", the "Quiz" and "Looping". The "Test" is in an online, easy to use, multiple-choice-question format. Every question is linked to at least one of the 17 SDG's, and users are given the right answers with explanations and sources to deepen their learning about Sustainable Development issues. You can take the "Test" independently, as a citizen or student for example, but also for your university as a university president or faculty member, and for your organization as well. As for the "Test", the "Quiz" is a series of questions on Sustainability matters, that you can take with a group of people, coworkers as well as friends. It is perfect to playfully initiate debates on Sustainable Development, at the introduction of training courses, seminars or public events, at team meetings, or even to start a discussion within a board of directors. It is suitable for small groups of about ten people as well as for events of several hundreds. Finally, "Looping" is a tool that relies on active learning. This method proposes a pedagogical experience where learners question existing knowledge, where they play an active role in co-creating new knowledge and where they question themselves and use critical thinking in a peer evaluation process. It is a way to overcome the passive role of learners and to start co-creating knowledge, as well as a way to allow learners and teachers to use the result of their work as a concrete contribution to an active movement working toward the achievement of the SDGs.
Read the latest Sulitest Report "RAISING & MAPPING AWARENESS OF THE GLOBAL GOALS" (2021) here: https://www.sulitest.org/hlpf2021