International Institute for Sustainable Development (IISD)
161 Portage Avenue East, 6th Floor
R3B 0Y4 Winnipeg, Manitoba, Canada
Image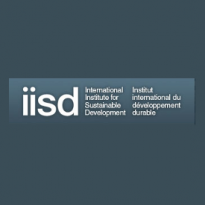 The International Institute for Sustainable Development (IISD) is an award-winning independent think tank working to fulfill a bold commitment: to create a world where people and the planet thrive.
Our vision
A world where people and the planet thrive.
Our mission
To accelerate solutions for a stable climate, sustainable resources, and fair economies.
Our values
People
Our primary focus is improving the lives of people and communities, fostering a more equitable and sustainable world.
Planet
We are committed to supporting the healthy ecosystems and biodiversity that underpin all thriving communities.
Excellence
We produce work of the highest quality, and our independent advice is backed by evidence.
Collaboration
We believe diverse partnerships produce better and more resilient outcomes.
Impact
We aim for creative, bold solutions with significant impact. We create the knowledge to act.