The Sustainability and Education Policy Network (SEPN)
MECCE Project
28 Campus Drive, University of Saskatchewan
S7N 0X1 Saskatoon, Canada
Image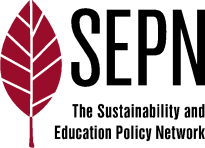 The Sustainability and Education Policy Network (SEPN) is an internationally recognized leader in sustainability and climate change education policy research.
The Sustainability Education and Policy Network (SEPN), an international network of researchers and organizations advancing sustainability in education policy and practice, emerged in response to these knowledge gaps.
SEPN is hosted at the Sustainability Education Research Institute (SERI), located at the University of Saskatchewan in Canada, and was established with $3 million in funding from the Canadian Social Sciences and Humanities Research Council (SSHRC), as well as through generous funding from our partner organizations.
The Monitoring and Evaluating Climate Communication and Education (MECCE) Project operates under the umbrella of SEPN.